---
---
Go Fast Bits RESPONS TMS Turbo Bypass / Blow Off Valve
Vehicle Fitment: 900 (85-98 Turbo) / 9000 (86-98 Turbo) / 9-3 (99) Except Viggen & Universal
NOTE!: Vent to atmosphere / blow off valves are not compatible with Saab Trionic 7 (black ignition cassette) engine management.
Replaces Saab OEM Part#: 4441895, 4391157, 8981904, 9390022

Connections: 25mm inlet and outlet
Vacuum hose connection: 1/4" (6,35mm)

Color: Black anodised finish for those who prefer keep things a little more clandestine.
VTA or Recirculation: RESPONS TMS allows you to run anything between 0-100% VTA. You can choose yourself how loud you want to be! Full recirculation, or full blow off valve!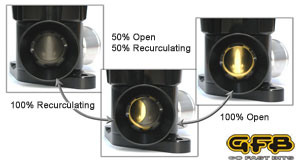 RESPONS TMS:
Advanced TMS benefits

Spring pre-load adjustment for max. response

Venting configurations:




  - Full recirc (silent) (Just turn adjustment ring!)




  - Full atmosphere (loud) (Just turn adjustment ring!)
Best choice for:
Quick and easy venting bias adjustment

A chieving noise on a car that is sensitive to




atmosphere venting e.g. VAG applications
Parts included:
Respons TMS Blow Of Valve

Fitting instructions
Whats does GFB Respons TMS mean?
As the name suggests, the GFB Respons is designed specifically with the aim of improving throttle response and reducing turbo lag. What's TMS? GFB's Turbo Management System is the term we apply to our diverter valves that have features designed specifically for the purpose of turbo lag reduction. Tests show that TMS features can return the engine to peak boost up to 30% faster than a factory diverter valve when shifting gears*.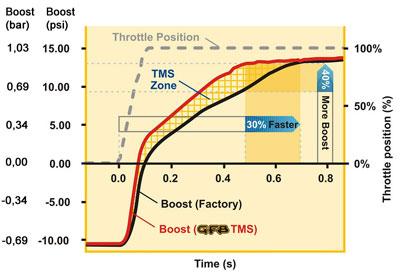 (*Chart shows comparative manifold boost pressure rise during 1st to 2nd gear shift as tested on a Nissan CA18DET with a T28 turbo. GFB TMS improvement is seen as a 30% faster return to peak boost, during which time up to 40% more boost is available) On top of the TMS benefits, the Respons also packs GFB's patented adjustable venting bias system found on the Respons TMS.
---
Frequently asked questions:
What boost level can I use with a GFB blow-off valve?  
Any level you like! The design of all GFB blow-off valves means that you can run boost levels that will more likely blow up hoses before the valve will leak. Because of the acetal seat the piston makes a perfect seal, and our valves have been tested in the factory to pressures of 110psi (if you can blow up one of our valves on a car we'd like to hear about it!).

How do I adjust the spring pressure to suit different boost levels?
You don't need to! At full throttle there is equal boost pressure on both sides of the piston, so it doesn't matter what boost level you are running, the pressure balances itself out. It then requires very little spring pressure to stay shut. The spring adjustment is used to match the VACUUM signal of the car. The idea is to adjust the valve so that the piston remains just closed at idle. This way, when you lift off the pedal, the spring will be neutralized so that the boost is free to push the piston open.
---
Why choose a GFB Blow of Valve:

More Power - Ours holds the boost, can yours?
Factory diverter valves are commonly known to leak or fail, especially with age or higher boost levels. A GFB TMS will hold as much
boost as you can throw at it, 24/7 - No frequent re-builds or replacement required.
Better Response - Through reduced turbo lag!
The GFB TMS is designed specifically to minimize lag - tests show that it can return the engine to peak boost up to 30% faster than a factory diverter when shifting gears, whilst delivering up to 40% more transitional boost*.
Better Drivability - Smoother than stock!
Factory diverters tend to operate either fully open or fully shut. This can cause annoying surging at freeway speeds, requiring constant throttle corrections to hold a steady speed. The GFB TMS completely eliminates this problem, making the car smoother to drive.
---