---
---
We are proud to present our newly developed Y-pipe kit for 997.1 Turbos! With this extreme high flow Y-pipe kit the performance of your 997 generation 1 will increase!
- Much larger inner diameter for improved air flow, 62% higher! (see diagram below). 


- Made of 70mm mandrel bent aluminium pipes.




- Smooth flow cast collector part.




- Smooth internal surface for best air flow.




- Comes with high quality silicone hoses and accessories for installation.



In the beginning of the development process of this product we spent a lot of time thinking what would be the preferred way to build a Y-pipe and here is the result of our conclusions and development process! Our pipe have both a very good flow rate and a low weight which is accommodated by composing mandrel bent lightweight pipes with a high quality 3D freeform designed cast joint between them. Onto the cast part we then welded CNC-machined connections for bov and breather hoses.
This construction adds a lot of performance but only a tad of extra weight. do88 Performance Y-pipe weight 1,52 kg (3,35 lb) OEM plastic pipe weight 1,38 kg (3,04 lb) and competitor cast performance pipe weight 2,76kg (6,08 lb)!

The pipes are then finished in a high quality powder coat that makes them look as good as they perform! You can choose between the more discrete semi gloss black and a fresh silver metallic finish.

The kit also includes 2 high quality custom designed silicone hoses which is available in two different versions. Which version you need depends on if you will install the y-pipe together with the OEM intercoolers or the do88 performance intercoolers. You can make your choice of hoses in the drop list above.



When it comes to air flow performance our Y-pipe totally outperform the OEM Y-pipe by 62% increased flow at the same pressure drop!








Be aware of that the OEM parts was designed for the power level the car was built for originally. A power increase may cause your stock Y pipe to hold back the power of your engine. So even on an engine with a software tune the do88 performance Y-pipw will give a performance increase over the OEM Y-pipe!

do88 performance Y-pipe comes as a complete package with all parts necessary for installation.

Click here for installation guide!

Included parts in this kit:


1. Full aluminium performance Y-pipe




2. Silicone hoses


3. Hose clamps
4. Hose adaptors if the Y-pipe sill be installed together with OEM intercoolers



When you order this kit, there is two choices that has to be made:

Color:
Two different colors of the pipe are available Silver or Black. There are no performance difference between the different colors, choose which color you think will be best for your car.

Intercooler:


Select which intercooler you have on your car. OEM or do88 Performance intercooler.
Fits:
Porsche 997.1 Turbo / GT2
Year models: 2007-2009

Porsche 997.2 GT2RS
Year models: 2010-2012


OEM reference:
99711064672
This diagram shows the air flow at different pressure drops of do88 Y-pipe compared to the OEM: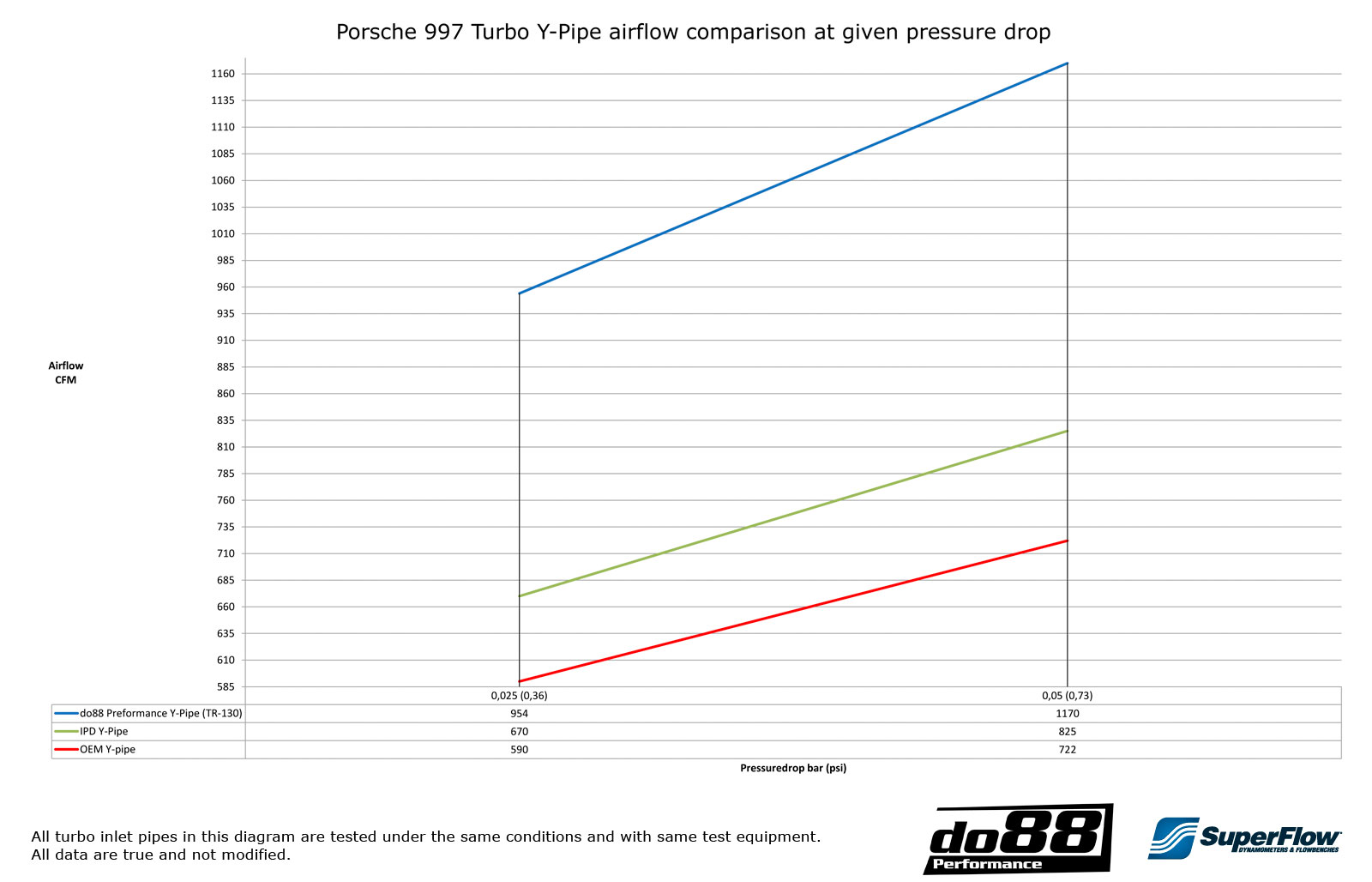 ---