---
---
A true performance upgrade intercooler for the 997.2 Turbo.
This is the most refined of all products we carry today!
- Cooler air to your engine! (see diagram below).


- High quality high density UK made motorsport cores.




- 3D freeform designed cast end tanks




- Custom designed

carbon fiber ambient air guides.


- Comes with high quality silicone hoses and accessories for installation.



After our market research in the beginning of our intercooler development for 997 generation 2 we understood that not many of the upgrade products on the market are really upgrades but more at the same level as the 997.2 standard intercoolers or sometimes even lower. So already from the beginning we realized that we could not sacrifice anything to keep the cost down we just had to do the best possible in the space available in the car! First of all we made a lot of investigation and comparisons between different core types and at last really fell for a high density motorsport core which have great cooling efficiency among with a low weight. With a great core in place we started to refine the end tank design which brought us to a decision to make cast end tanks as we could then control the air flow distribution over the core in a very precise way. This is very important as a good tank design will be beneficial for both pressure drop and cooling efficiency. To be able to fit an intercooler with appropriate thickness for the job it was also necessary to design a new upper ambient air guide. This was designed in our 3D scanned environment to ensure perfect fit to the vehicle integrated air guides and our intercooler. To achieve the best air flow distribution over the core we made intercooler end tanks with 70 mm (2 3/4 inch) connections which then made it necessary to designed custom silicone hoses for all positions. The hoses are 3D designed with airflow in mind where we CFD tested each hose during development to ensure best possible flow rate of all parts! The hoses between turbocharger and intercooler are special silicone hoses that can withstand up to 240°C (464°F) continuous temperature! Another important aspect for cooling performance are to use all ambient cooling air available, to optimize this part we include air block rubber seals for all surfaces where the ambient air guides must seal properly.

With this way to build our intercoolers the weight increase compared to the OEM ones was relatively small considering the size of our intercooler and that its all made of aluminium. Our intercooler weight is 5,85 kg (12,89 lb) per piece and the 997.2 OEM intercooler weights 3,30 kg (7,27 lb) per piece. It might sound like a big weight increase but compared to other actors on the market with intercoolers in this size it's a low weight!

We sell this intercooler kit in two different versions, one that fits with the OEM Y-Pipe and one version that fits our performance Y-Pipe. The difference is which intercooler outlet hoses we supply. You can make your choice in the drop list above.

When it's down to performance our intercooler kit give a great reduction of intake temperature compared to the OEM 997.2 intercoolers! Please have a look in the graph below where we show data from our AIM racelogger recorded at 5 full throttle accelerations done in a immediate sequence without any cooldown between 40-260 km/h (25-162 mph) in a Stage 1 tuned Porsche 997.2 Turbo PDK. In all tests the car was driven in Sport Plus, automatic gear change and AC off. First we made 5 runs with the car equipped with OEM intercooler and y-pipe then we switched to do88 performance intercoolers and y-pipe and drove car for a while then we made 5 runs exactly the same as with the OEM parts. The temperatures are significant lower with our intercoolers which is visible in the graph below!

At the same time as our intercoolers lowers the intake temperature they also flow better than the 997.2 original intercoolers! Please have a look at the air flow rates at different pressure drops in the graph below where we compared our intercooler with hoses to the original intercooler with hoses in our own Superflow SF-1020 Probench to verify the final result!

From our five in a row full throttle accelerations between 40-260 km/h (25-162 mph) we have very reliable and repetitive test data for the range 50-250 km/h (31-155 mph). When analyzing the numbers, we found that we in average cut down the acceleration time for 50-250 km/h

(31-155 mph) by 3 seconds compared to the OEM intercooler and y-pipe!

No software programming or adaption reset was done in between the tests.






Keep in mind that the OEM intercoolers was designed for the power level the car was built for originally. A power increase may cause your stock intercoolers to not be efficient enough. So even on an engine with a software tune or using your car in hot climate the do88 performance intercooler kit will give a performance increase over the OEM intercoolers!

do88 performance intercooler kit comes as a complete package with all parts necessary for installation.

Click here for installation guide!

Included parts in this kit:


1. Performance intercoolers




2. Carbon fiber air guides


3. Silicone hoses
4. Hose clamps
5. Rubber seals
6. Installation hardware



When you order this kit, there is one choice that has to be made:
Y-Pipe:
Select which Y-Pipe you have on your car. OEM or do88 Performance.
Fits:
Porsche 997.2 Turbo
Year models: 2010-2012

OEM reference:

?
This diagram shows the air flow at different pressure drops of do88 intercooler compared to the OEM: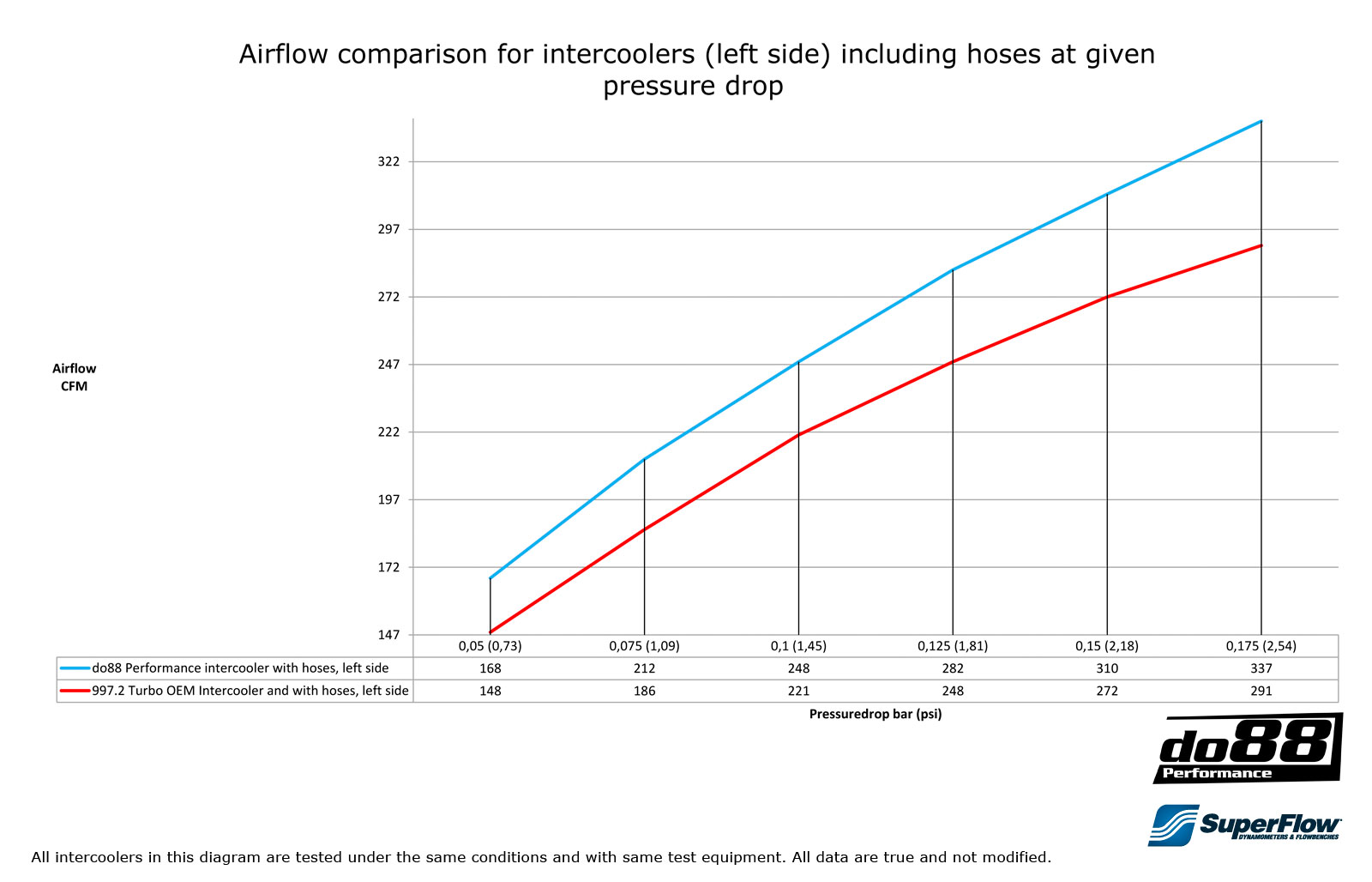 This diagram shows intake air temperature of do88 intercooler compared to the OEM: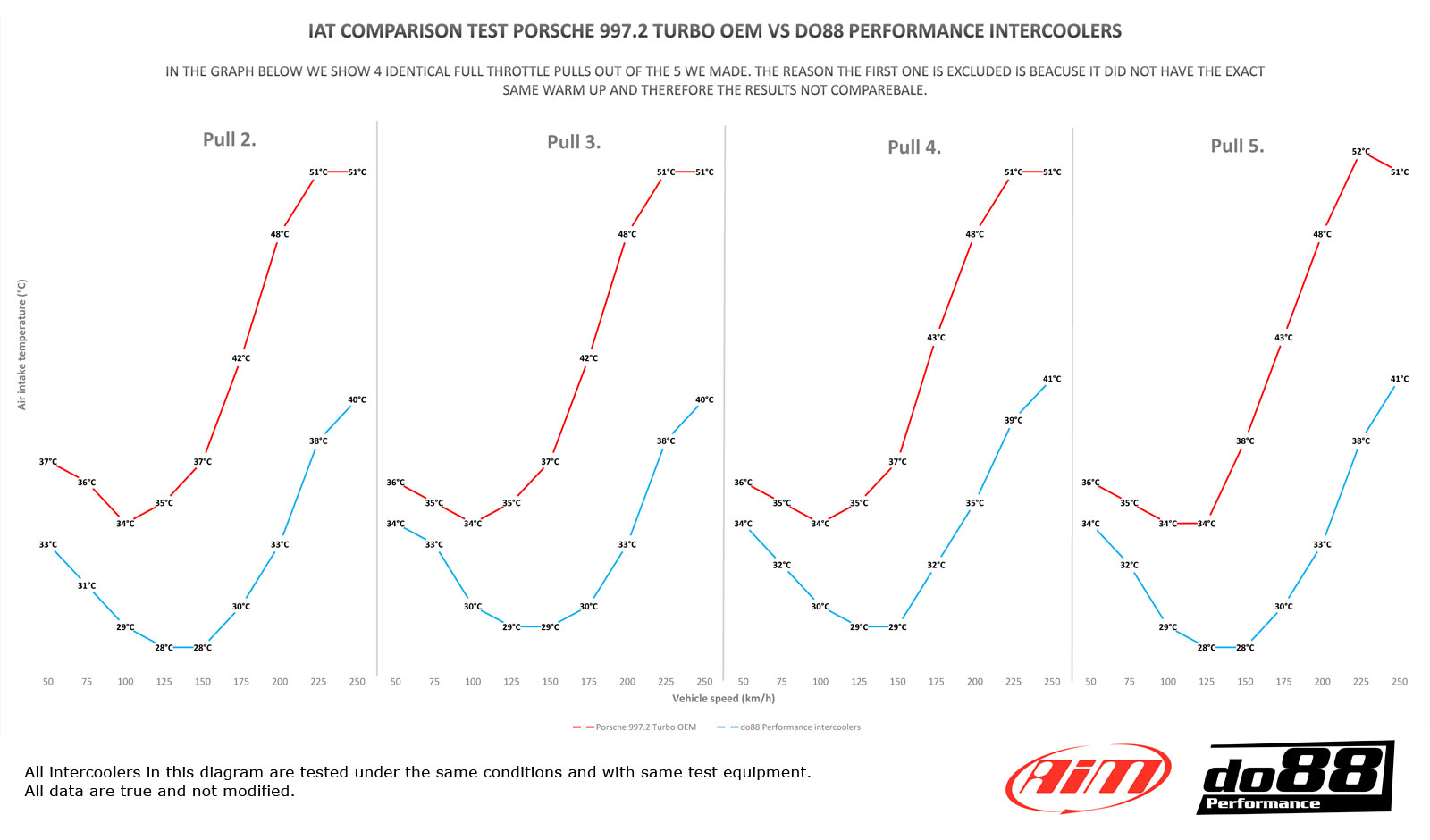 ---