---
---
The best Saab 9-3 SS / SC 2.0T performance turbo air intake system on the market!
Contains inlet pipe, heat sheild, silicone hose, rubber seals and installation hardware.
This kit is designed for the ones with high horsepower goals that want to upgrade to the absolute best! Our turbo intake system has better air flow than the stock air box and intake pipe. This is verified in our own SuperFlow SF-1020 flow bench. The included air intake pipe have an outer diameter of 70mm (2 3/4") and are mandrel bent for best possible air flow. The pipe connects to the turbocharger inlet with an custom designed 4 PLY silicone hose designed for best air flow and then steel wire reinforced to handle a wide pressure range!

To achieve best level of function fit and looks our pipe have CNC machined bracket and air mass meter flange! The air mass meter flange are welded to a carefully selected pipe section with correct air flow cross section to maintain proper air mass meter readings.

The included heat shield are designed to create a screen between the air filter and the warm air in the engine compartment. This is done by a custom designed heat shield plate that comes with rubber seals that makes it protect your air filter from hot air better than other intake systems that can match the great flow of the do88 system! The filter are located in a position where its fed with cold air from the intake pipe from the front grille. If you want to improve the cold air flow to the filter you can replace the original air guide with a do88 air ducting hose (Part number AD89) that you can use to lead air from any preferred location in the front of the car.

do88 turbo inlet pipe has an air flow at 0,125bar/1,81psi pressure drop of 653CFM, compared to the OEM pipe and air box that has 452CFM!






Always be aware of that the OEM intake system was designed for the power level the car was built for originally. A power increase may cause your stock intake system to not perform well enough. If your intake system dont have the performance you need it will be to tough for the turbocharger to get the air it needs which will lower engine effeciency and this will make you loose hp. So even on an engine with a software tune the do88 intake system will give a performance increase over the OEM air box and intake pipe!

do88 performance turbo air intake system comes as a complete package with all parts necessary for installation.

Click here for installation guide!

Included parts in this kit:


1. Full aluminum inlet pipe




2. Heat shield




3. Silicone hose




4. Rubber seals




5. Hose clamps and installation hardware




6. Air filter AEM Dryflow




When you order this kit, there is two choices that has to be made:

Color:
Three different hose colors are available Blue / Black / Red. There are no performance difference between the different colors, choose which color you think will be best for your car.

Air filter:


Choose "AEM Dryflow" if you like to order your intake system with an matching air filter. Or "Without filter" of you prefer to order the intake system with out air filter.
Fits:
SAAB 9-3
Year models: 2005-2011
Engine: B207, 1.8t 2.0t 2.0T BioPower Aero
Miscellaneous: Does not fit early MY-03 with SAI

OEM reference:

12786553
12795151
12805268
12786800
12802029
This diagram shows the air flow at different pressure drops of do88 turbo air intake system compared to the OEM: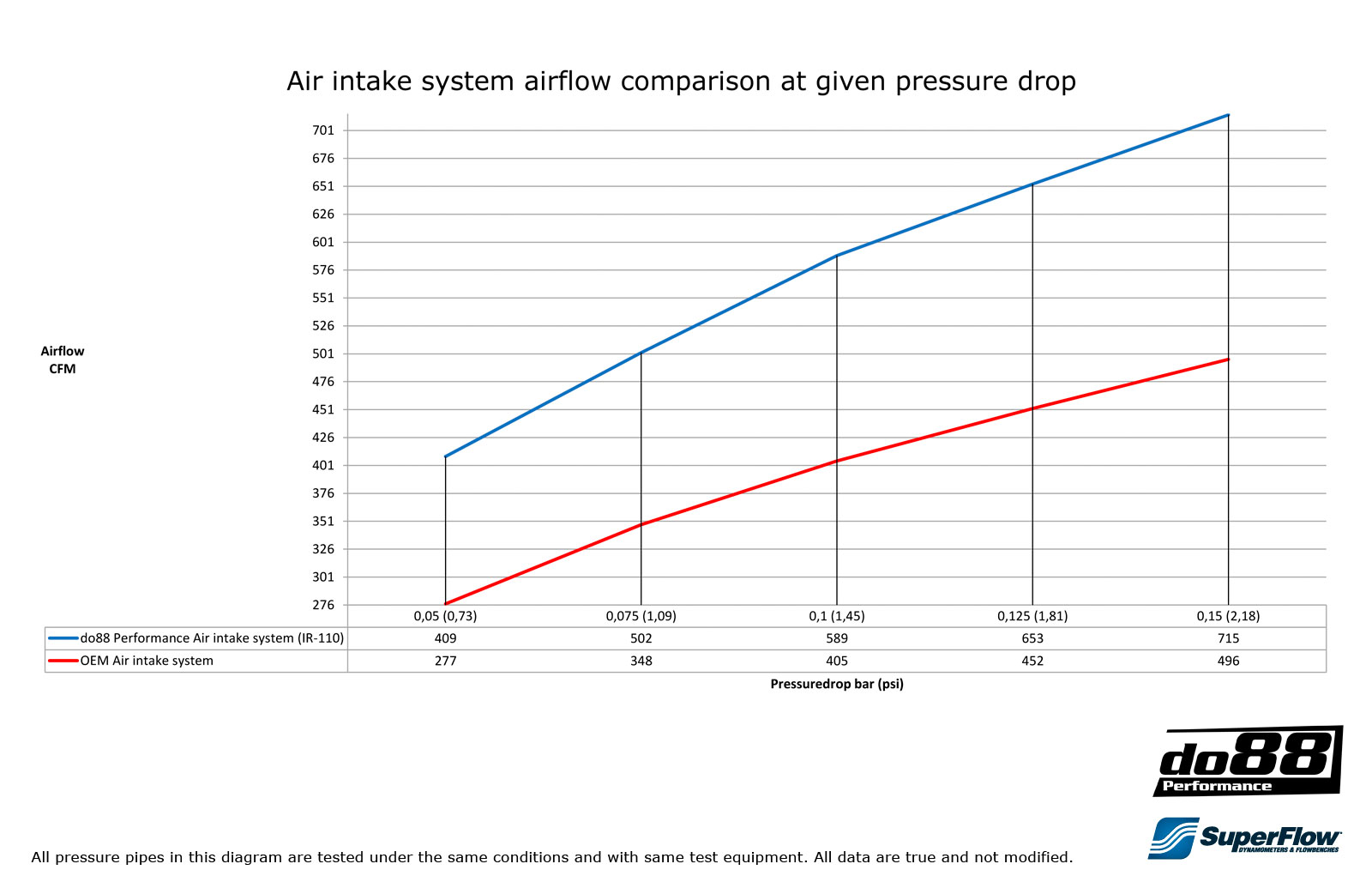 ---